About Us: A Custom Home Builder Building Dreams in Buda, TX and Surrounding Areas
Welcome to Amistad Homes LLC, your trusted partner in turning your dream home into a reality. With 40 years of professional home construction experience, we are dedicated to providing exceptional services in Buda, TX and the surrounding areas. As a family-owned and operated custom home builder, we understand the importance of crafting a space that truly reflects your unique lifestyle and aspirations.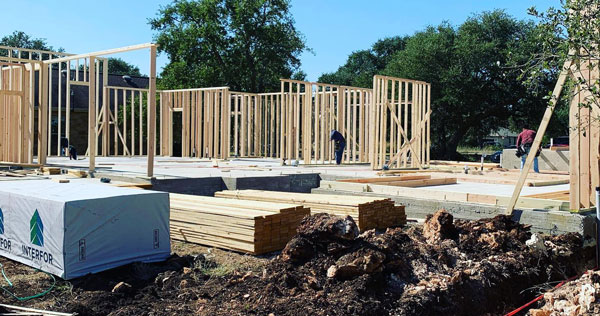 Why Choose Us?
Personalized Approach: At Amistad Homes, we believe that every home should be a reflection of its owner. We work closely with you, listening to your ideas and understanding your vision, to design and construct a home that exceeds your expectations.
Expertise and Excellence: With our extensive industry knowledge and attention to detail, we guarantee high-quality construction solutions that stand the test of time. Our team of skilled professionals is fully insured and certified, ensuring your peace of mind throughout the building process.
VA Approved: As a VA-approved custom home builder, we proudly serve our military community, providing tailored services to meet their unique needs. We take pride in helping our veterans and their families find comfort in their new homes.
Services we Offer
Custom Home Building: From concept to completion, we bring your dream home to life with meticulous craftsmanship and attention to detail.
Custom Home Design: Our talented designers work closely with you to create a home that perfectly suits your style and preferences.
Home Additions: Whether you need more space for a growing family or desire a dedicated home office, our team can seamlessly integrate new additions into your existing home.
Barndominiums: Embrace the rustic charm of barndominiums, combining the convenience of a modern home with the character of a barn-inspired design.
Metal Building Construction: We specialize in constructing durable and versatile metal buildings that cater to your specific needs, be it a workshop, garage, or storage facility.
New Home Construction: Trust us to build your new home from the ground up, providing a solid foundation for the memories you'll create.
Commercial Roofing & Framing: Our expert roofers and framers work meticulously to create sturdy and reliable structures that will support your commercial building for years to come.
Financing: We also offer financing solutions, working closely with reputable lenders who specialize in home construction loans, ensuring you receive the best possible terms and rates.
Contact Us
Are you ready to embark on your home-building journey? Give us a call at (512) 750-8009 or email us at amistadhomes@gmail.com. Connect with us on Facebook for inspiration and updates. Let's start building the home of your dreams together! Call us, your go-to custom home builder, today for expert solutions and master craftsmanship on all your projects.